If you live in Australia and you are looking to expand your space, cover your patio, or add a carport in the most economical way you will want to consider using a skillion structure to accomplish this.
A skillion structure is basically a mono-pitched roof with a slope and may or may not be attached to another building or roof surface. The roof itself may be referred to as a pent roof, shed roof, or lean-to roof in America. What differentiates the Australian skillion roof from a gabled roof is that a gabled roof is a dual-pitched roof.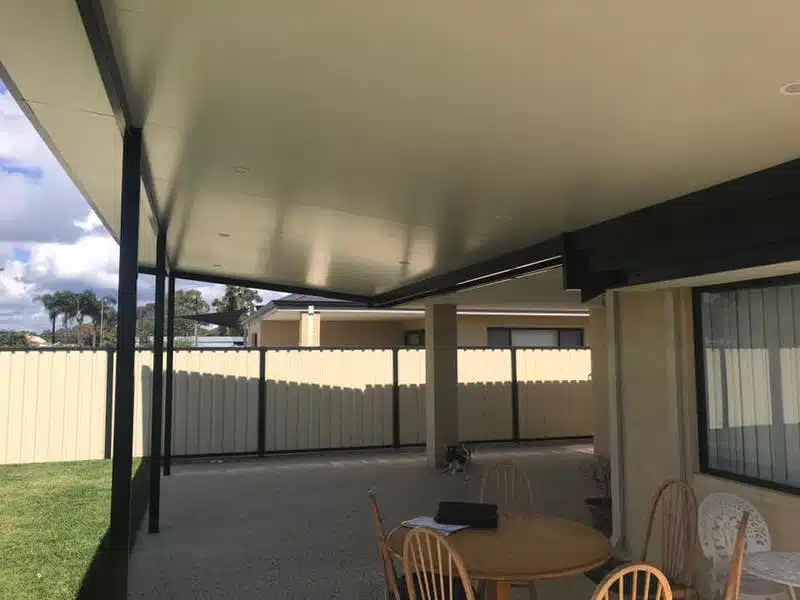 There are benefits to using this type of construction especially in Australia where it is sunny a good part of the year. Besides being affordable the skillion patio or carport is easy to construct and can provide shade or rain protection year around. Do not confuse a skillion roof with a flat roof. The difference is the pitch in the skillion roof which allows for drainage during the wet season.
The other beauty of using skillion roofing is that the roof can be designed and used in many sizes and locations. For instance, one side might be connected to the house in line with the roof and extended out providing a simple covered walkway or patio cover.
If you have a patio area separate from your house a free-standing skillion patio sitting on four posts can also provide you with the shade protection you desire. With all skillion roofs, you have a variety of panel options available. The panels are constructed using polycarbonate material and can be painted almost any colour to match your residence or décor. If you are covering a dark area skylight panels can be used to allow sunlight through. The roofing panels can be arranged in a variety of attractive ways used as an overlapping design or a lattice approach.
A skillion designed structure can be installed very quickly unlike a full structure and can often be finished in a single day. Once the support poles are perfectly placed the horizontal framing is added on which the assortment of panels will sit. This type of construction proves to be fast, efficient and affordable.
If you own a home without a garage, a carport may be the way to go. It will not only add convenience and protection for your vehicles but increase the value of your property as well. Let the patio factory take the responsibility of designing and constructing your carport. The Patio Factory designers will ensure they obtain all required permits or government approvals before building a long-lasting structural sound carport.
Many carports feature gabled or hip roof styles but using the skillion design is not only functional but a lot more affordable. They are normally attached to the house which means access to the home is protected in any type of weather.
So, whether you are expanding your current structure, building a patio, carport or shed and you are not sure you can afford a large structure a skillion design may be the way to go. Like any construction project the company you choose to do the work is the first step in having a beautifully constructed addition.
You will have a modern looking alternative for transforming empty space into a usable functional space for parking your car, storing your tools, or entertaining your guests. Although the construction will be done by someone else, you will have the final word when it comes to design, materials and colours. Contact The Patio Factory Company today and talk to a representative about what your needs are. You won't be disappointed.
Patio Designs
Patio Roofing Options
Free On-site Quote and Measure
Call us Today!
(08) 9451 5777