Why a Flat Roof for your patio? Well, Flat Roofs are a simple, economical design that can benefit in more ways than one. Flat Roof Patio covers and Flat Roof Patio Designs have been around a very long time. They are options in mostly arid climates. Often flat roofs are used as additional living spaces or even as living roofs. That's right, you can stay cool, calm and collected under your Flat Roof on your lovely patio, all while growing plants and grasses on the top, blending right into the landscape and leaving just a very small footprint for your home. The area underneath will be protected by the earth above and be even cooler during those hot summer days.
The Appeal of Flat Roofs
Flat roofs offer many advantages. First and foremost is the cost. Flat roofs are less expensive than other types of roofing such as gable roofs, dome roofs or hip roofs.  Typically they can have a pitch of up to 10°, so while not quite flat, for all intents and purposes they are. The ever so slight pitch does serve to promote drainage.
Ease of Access and Maintenance
As well as the cost, accessibility is a factor. Flat roofs are very accessible without specialized equipment or extra length ladders. If you wanted to, you could even climb out of a window onto a flat roof.  It's just like walking on the ground.
So again, another advantage, easy to clean as well. Just sweep or mop the top and you are done!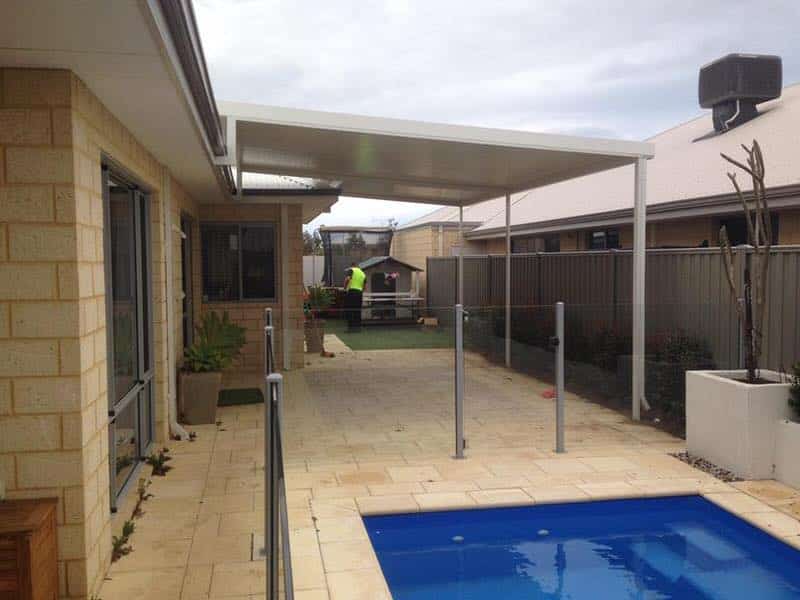 Versatility: Beyond Just a Roof
What about creating a deck type living space? Sure why not. We think of roofing as a covering, but in the case of a flat roof, it can also be a floor. Take your telescope out at night and gaze up at the stars all while your honey is setting up the romantic dinner that's been planned for the patio, under your Flat Roof!  Now that's multi-tasking!
Embracing a Living Roof Concept
Perhaps you would like to use your Flat Roof as a living roof. Plant your sun-loving plants up top and keep the shade seekers down below in containers. Care and watering them is super simple. You can get out there on the roof to weed, prune and pick the fruits of your labour. By creating a living roof you are really utilising all of the space to your advantage.
Maximising Space and Efficiency
Over, under we've got you covered. Maybe you don't have more than patio space as your outdoor living area. Now you've just doubled your area! That's perfect planning and wow, just wow that's amazing. You've doubled your space with no trouble with your neighbours and without buying any additional land!
Quality and Durability of Materials
We use the same quality materials in our flat roofs that we use in our more expensive roof designs. The flat roof design is just simpler to work with, uses less material and actually offers more versatility in terms of fitting out your patio. We can help with the design, the pitch and maybe even let you know what plants work best on a living roof!  Our designers will probably tell you to plant all their favourites and then offer to visit! We've got their numbers! No worries!
Elevate Your Style with BlueScope® Steel
Now let's talk specifics. We utilize Australian BlueScope® Steel. Talk about strong! The strength just blows our minds and it will blow yours too!  Our Flat Roof Designs are Cyclone rated and can withstand a twister the likes of which carried poor Dorothy away! Our BlueScope® Steel is coated with the Colorbond® pallet of colours! Now we're talkin' fancy. You don't have to settle for some ugly roof that doesn't match your house! Go through the array of colours and decide to match or compliment your existing structure.
We are more than happy to consult on this as well. We can tell you what's trending and well, what is so last year!
All of our Flat Roof Designs are Shire Approved. Everything, all of our materials are up to and in many cases surpass current Australian regulations and codes. Our expert designers are standing by awaiting your call. Our skilled installers are available to come out and do the work for you!  If you would prefer to Do It Yourself, we offer complete DIY KITS with instructions, drawings and manuals. Call us today 08 9451 5777  and let's get started on the measurements, the design and figure out who is going to do the install. We're ready. Are you?
Patio Designs
Patio Roofing Options
Free On-site Quote and Measure
Call us Today!
(08) 9451 5777